sharpchick_2011
I got a call from my sis last night. She and my brother-in-law are being harassed by members of the Mormon church, under the guise of being "watched over" by a guy who fancies himself my brother-in-law's bishop.
My sister is not Mormon. As a matter of fact, my family's only contact with Mormons was on the
first
9/11, back in 1857 at
Mountain Meadows, Utah,
where 17 members of our extended Wharton family were massacred by Mormons, and their bodies left to rot and be scavenged by animals after they were picked clean of their valuables.
Because they were "Gentiles," dontcha know? Leave it to what was then a sect, devised by a self-proclaimed 17 year old prophet in 1823, to shanghai a term used in Judaism for thousands of years...
I am especially irritated by their attempt to use their genealogical holdings to to baptize members of
anyone's
family in the Mormon faith, if they can get their hands on your database.
The first thing that crossed my mind when I saw this photo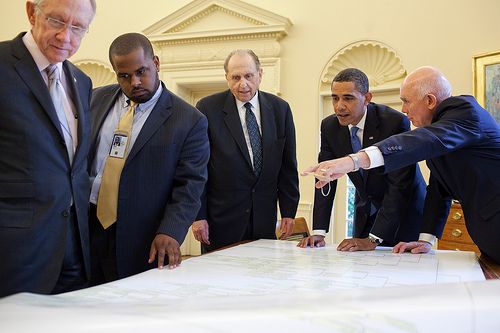 in my morning paper in 2009 was whether as a
quid pro quo
for giving our President those lovely "five large leather-bound volumes...that detail his family history going back multiple generations covering hundreds of years," Monson had told Obama that all his family members had been baptized in the Mormon church.
So on the whole, my family doesn't hold much truck with Mormons.
---
My brother-in-law's family is Mormon, but as I gather from him, he has not been involved in the Mormon church during his adult life.
So when these people began showing up at their house a couple of years ago, my sister was initially polite when she turned them away, explaining she was not Mormon, and the person they were looking for was not at home.
Then, she had to get more insistent with them. She told them not to even bother ringing the bell if the little red truck wasn't there.
They kept coming. My brother-in-law told them to lay off - don't come back.
He even wrote them a letter saying that.
So they sent him one in return.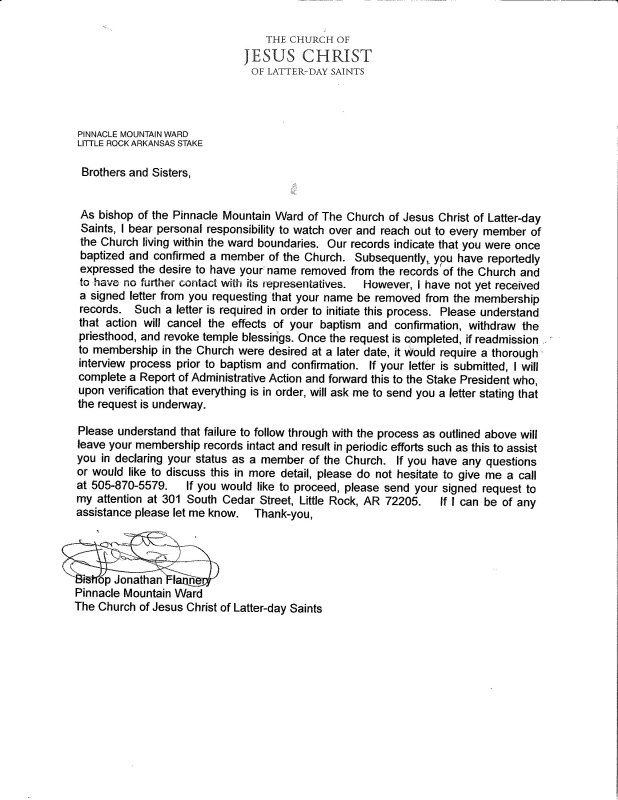 Isn't that a trip? A form letter. Kinda makes ya wonder why they need one of those, doesn't it?
Apparently, the letter my brother-in-law wrote isn't good enough.
He has to write a
special
letter, "requesting that his name be removed from the membership records." Unless he does that, they will just keep coming.
---
He says he's not going to do it.
Personally, I think Bishop Jonathan Flannery has been real lucky to date.
What his folks are doing is called criminal trespass and stalking in this state - I have no idea what they call it in Utah.
If they kept doing that shit to me, they'd be looking the wrong way down the barrel of a gun. Instead of looking out for my immortal soul, they'd need to be looking out for their very mortal asses.
Or talking to a couple of Little Rock's finest, who could outfit them with a pair of matching shiny bracelets, as they gave them personal escort off my property.
Down here in the South, we have a saying for that kind of crap.
That dog won't hunt...
---
The journey is good.
Beware of the wolves in sheep's clothing.
Cause we have laws about that kind of asshattery...